Dometic 1350 SL Hvac 12V DC Replacement Unit
$1,250.00
(DOM 1350SL Hvac 12V) For the: Dometic 1350 SL.  The model number needs to have a 'SL' following it.  We have another unit on our website for the 1350 without the SL.  This Replacement unit will convert your existing fridge to a residential fridge, which eliminates your LP gas/ 120V electric absorption system. This cooling unit is built with a compressor system and comes standard with our universal fridge controller, which is designed specifically for our Hvac units. This controller will eliminate your existing Dometic controls on the front and back of the fridge.  This cooling unit is designed to withstand hot humid temps and will keep your ice-cream hard with 70% faster cooling. The Hvac unit uses about 66% less power than the absorption unit uses on the electric setting.  Power usage: 11.6 amps at 12V (140 watts).  
You will need approx. 7 3/4″ from back of fridge to outside of side vent (picture is an example of a unit that has 8 3/4″) if less space is available email us for side vent modification info.
This unit comes with new controls, installation manual, foam sealant, thermal mastic, foil tape, freezer/fin screws and LP gas plug, basically everything needed to do the install, no additional parts needed.                
The 12V wiring on your coach might have to be upgraded to a 10 gauge wire to handle the load of the compressors.  Wiring kits available
contact for more info or questions
Description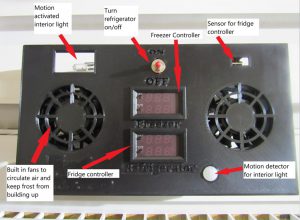 Additional information
| | |
| --- | --- |
| Weight | 95 lbs |
| Dimensions | 66 × 33 × 16 in |
Only logged in customers who have purchased this product may leave a review.