Hvac AC or DC Model Testimonials
We take great pride in doing quality work for our customers. It's more than a business practice, it's a way of life. Take a look at what a few of our customers have to say about their experience with us and their all electric units. We believe you'll experience the same level of service.
Also, see what customers of the gas/electric units have to say by clicking here!
This is what I wrote about your product and your company on a Grand Design Facebook group board. I didn't mention that you helped me on the weekend – I didn't want to set a precedent. – Shep
After grousing for months about our Norcold 2118 RV fridge, because it used 6-7 Kw/day, or could empty a 30# propane tank in less than a week, I finally pulled the trigger and bought the DC compressor unit from JC Refrigeration.
Now I wish I had done this months ago! The afternoon we installed it, I unplugged shore power. This is a worst case scenario because the compressor ran continuously to take the fridge from about 75 degrees down to operating temperatures. Next morning, batteries were at 85%. Oh yes!!!
I gotta say, not being an electrician, with only a handshake knowledge of electronics, I was a bit wary of doing this myself. This is where customer service at JC Refridgeration is my hero!!! If I had a question, was unsure of a step, or had a problem, they answered my emails with a prompt reply, or even a phone call. They walked me through the problem, which usually took less than 5 minutes.
Now, a couple days into this, my only challenge is moving the thermistor to get the right temperature. What is my current setting? On setting 2 I am getting 8 in the freezer and 36 in the fridge. As I move the thermistor up and to the right, I'm slowly getting a colder freezer temp while maintaining mid-thirties in the fridge. As the unit settles, I'm confident that my goal of 0 to 5 in the freezer will happen.
This unit will use about 1.5 Kw/day of DC power. I am very pleased with the results. I highly recommend JC Refridgeration. The product is all that they claim it is, and their customer service is better than 5 ⭐️            .Shep Kuester
this was installed by a mobile service tech that ended up not watching our install video or following our instructions and put the fridge fin in upside down and drilled holes into our Freon lines: end result was we sent a new one again " No Charge"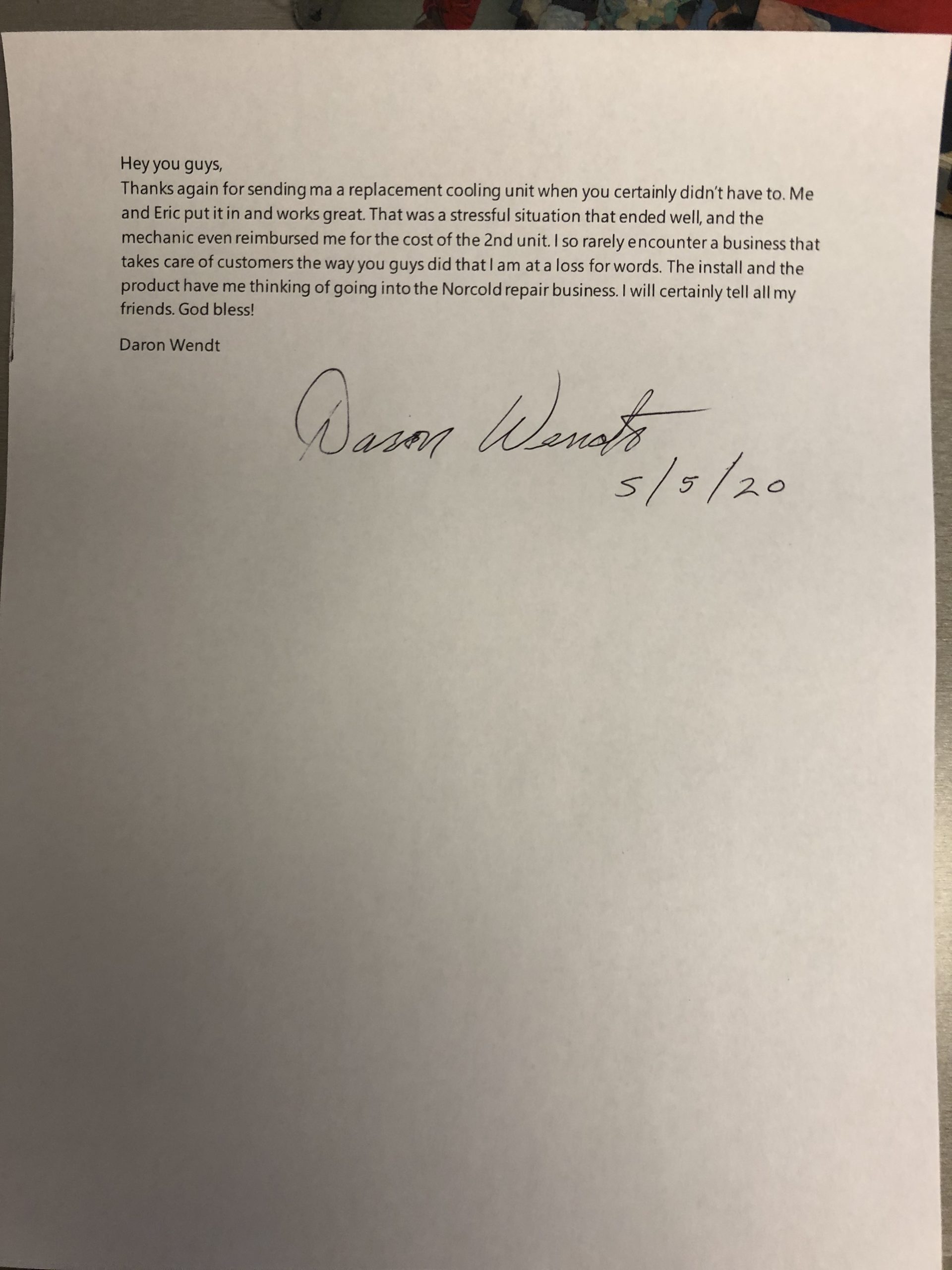 Good Day
Please add me to the list of very happy customers. You were able to squeeze us in just ahead of the State wide shut down. Something that I am extremely grateful for and remarkably impressed by. The quality of your product and the professional manner in which the unit was installed were second to none. The Fridge now maintains a fairly constant 38F. I wish your and your staff much continued success. If only there were other companies as good as yours for the other segments of my RV, It would make for even happier travels
Paul Legare
"Hi JR,
We want to take this opportunity to Thank You for correcting the problem with both our 2016 and 2018 Norcold refrigerators. You took the time to explain what the problems were, what the options were and recommended the best solutions – ever thought your recommendations were less expensive.  
The 2018 Norcold would not keep ice cream frozen and the temperature in the refrigerator would sometimes go above 48 degrees. You recommended we go with all electric. We were very hesitant but went with your recommendation since you did not lead us astray with correcting the problems with the 2016 refrigerator.  We are ecstatic with the results!!  With the all electric refrigerator drawing less than one amp our solar panels can keep our batteries fully charged.  With the setting on 2 our ice cream stays hard and the temperature in the refrigerator runs between 34 and 39 degrees even on hot sunny 85 degree days.
We have found you to be the most honest business person we have dealt with in a long time and when given the opportunity we make people aware of JC Refrigeration and tell them about the outstanding work JR and sons do."
"
JR, Just to let you know that our new Hvac upgrade is working very nicely. The ice-cream is solid like my wife Kathy likes. Setting is 3. Even on 9 before the ice-cream was not doing well.
My icemaker is now making ice fast enough for me to think about opening an ice making business.
Should have replaced the unit a long time ago.  Thank you!"
"
Just wanted to pass on our appreciation for your quality workmanship and professionalism. Our new Hvac cooling unit is working perfectly, I had to back off the temperature setting because it was too cold. Your design and equipment are superb and your installation could not have been better, we really appreciate the care you showed by protecting the interior of our coach so well and then cleaning up afterwards, the woodwork and trim was not damaged or marked whatsoever. The quick professional service is quite impressive, I wish more businesses were ran like yours! It was a real pleasurable experience and we thank you so much. I will definitely recommend JC.
"
"
Frig is working great … Temp goes to -10 in freezer … Many thanks … Went to a rally over the  weekend and you have 2/3 customers headed your way this summer for the new Hvac system.
"
"Hi JR,
I have the Norcold 1200 series refrigerator and it has never really kept ice cream frozen and milk cold and along with the fact that I had to fix the 'recall' fix twice, my satisfaction with the unit was non-existent. After 12 years I wanted to get rid of the propane but changing to a residential unit would be a huge effort. I researched my options and found your company and products online and reached out to you. You returned my message immediately (which was awesome) and in speaking with you at length, I decided that the new HVAC unit you now offer was the option I was looking for to eliminate the propane. The unit arrived in 5 days in perfect condition as promised. I decided to install the unit myself after speaking with you and it was as easy as you explained. The installation video's on your website are great step by step guidance and you were kind enough on a Saturday afternoon to take my call when we had a couple of questions and walked us through it easily. The unit went in perfectly and it runs better than it ever has – quiet and cold. It only took the fridge a few hours to cool down (propane took at least a day) and the ice cream is solid.
Best decision I have made was putting your HVAC unit in and your support and follow up was outstanding. Anyone wanting a residential type fridge should really consider this option as it is a great alternative to propane (eliminates the worries with the Norcold recall).
Thank you again JR for your help and support and your integrity speaks for itself. Should anyone like to speak with a truly satisfied customer, I am always available."
Love our Norcold conversion 12v system.  Never thought we would have an actual cold refrigerator and our ice maker works perfectly!
Thank you, JC refrigeration,