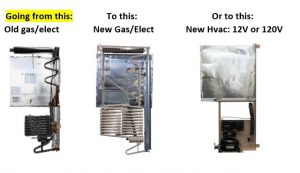 If you are undecided whether to stay with the gas/electric version or do the conversion to an Hvac compressor cooling unit, we have a list of questions and answers to help you decide which option would fit your needs the best.  
What are the cooling units charged with: The gas/electric cooling unit is charged with an ammonia/hydrogen mixture. The HVAC cooling unit is charged with R-134A freon. (Same thing as your RV/car AC)
Q. Does one cool better than the other: The HVAC version will cool down about 70% faster than the gas/electric version, it will also recover faster if you open the doors. However, they will both be able to hold basically the same temps in the fridge 36-40 F, and freezer 0 to 10 F.
Is the compressor noisy: A slight hum of the fan above the compressor is what you will hear. Most times, in order to see if the compressor is actually on or not, you have to put your hand on it to feel the vibration as the compressor runs extremely quiet.
Will the compressor unit handle vibration from driving like a gas/electric unit will: Unlike a residential fridge, we do not make the compressor rigid. Our compressor is sitting on 4 rubber mounts and the frame that supports it is very flexible to handle the harmonics and vibrations from driving down the road. Also, our lines are brazing welded, instead of soldered, to ensure the highest quality weld and to prevent leaks.
How much more battery storage is needed for the HVAC version compared to the gas/electric: If you are normally plugged in to shore power, you don't really need more battery storage than what you have already. If you only unplug to travel to the next campsite, we recommend that you have at least 150-200-amp hours of battery storage to keep the cooling unit running until you plug back in to shore power. 150-200-amp hours will usually last you around 12-18 hours with the compressor running.
Do you have to get a new control system for the gas/electric or the HVAC cooling units: With the gas absorption unit you get to keep the same controls that you have been using and are comfortable with. Most HVAC cooling units will come with a new control system that is mounted on the fins in the fridge. Check other attachments to see if you model does come with a new control system.
Do I need to add any ventilation fans when installing either version: With the gas/electric version, you will need at least one vent fan on the back of the fridge and if the original ones still work properly, you can use them. If there were no vent fans originally, we require at least one be added onto the back of the fridge. If your fridge is in a slideout, you will need a fan installed inside the top side vent to push the hot air out. With the HVAC version, all of the vent fans that are needed are already mounted on the cooling unit from the factory and you don't need to add any additional fans, however all vents will still need to stay open for proper venting.
Is there still a fire hazard with both versions of cooling units: In all our years of building cooling units we have never had a gas/electric cooling unit catch on fire but the hazard is still present as you are using an LP gas burner. With the HVAC version, there is nothing flammable on the cooling unit so there is no more fire hazard.
With the HVAC cooling units, can you get both 12V and 120V on the same unit: No, we make 2 different units, so at the time of the order we will need to know which one applies best to your needs, and then only the power chosen can be used.
Are both versions serviceable in the field if you need to: We try to build these cooling units as simple as possible so, in most cases, we can diagnose what the issue is and help you get it fixed over the phone or through email.
Are there any extra parts needed to install these cooling units: On the gas/elect we send along the basic, Thermal Mastic, sealant foam, silver tape, but on this style, there are more parts involved you might want to consider changing at the same time such as: fans, heating elements, Lp Burner, etc. While on the Hvac everything you will need, to do the install, is all included. You don't need to order any extra parts. However, we don't send any hand tools or anything like that along so you will need to supply those.
Is one version harder to install than the other: It depends some on the model of the fridge, but for the most part the biggest challenge where 2 people are needed is when you slide the fridge out onto the living room floor. The biggest difference between the gas/electric version and the HVAC version, when installing, is the wiring portion. We have videos to cover gas/electric installs and step by step manuals to cover HVAC installs. When asking our installers which version they prefer to install, they say the HVAC version.
If I only dry camp occasionally which is the better option: We have coaches that are off grid 100% of the time using our Hvac system, but they normally have some solar panels and 4 -6 batteries, so if you have 2 batteries and you only dry camp 1 -2 days max, you would be fine with the Hvac. But if you go 2 weeks or months and have only 2 batteries and no solar panels, you should probably stay with the gas/elect. Which makes us very unique, we also install Victron inverter/chargers, Heliene solar panels or Battle Born Lithium Batteries, to set you up to what is needed to run totally off grid.
Since 1994 JC Refrigeration has been manufacturing absorption style refrigerators. So, we have many years of experience and we have never been a mass production facility so you can be assured that all of our cooling units are quality built and each one is individually tested for proper cooling before they get sent out to customers. We also now manufacture HVAC compressor cooling units to fit the same Norcold and Dometic refrigerators as the absorption cooling units. These are built in the same facility with the same high standards and are also individually tested for cooling performance.
If you have more questions, feel free to email us at [email protected]
Or visit our website: jc-refrigeration.com